This post is also available in: Norwegian Bokmål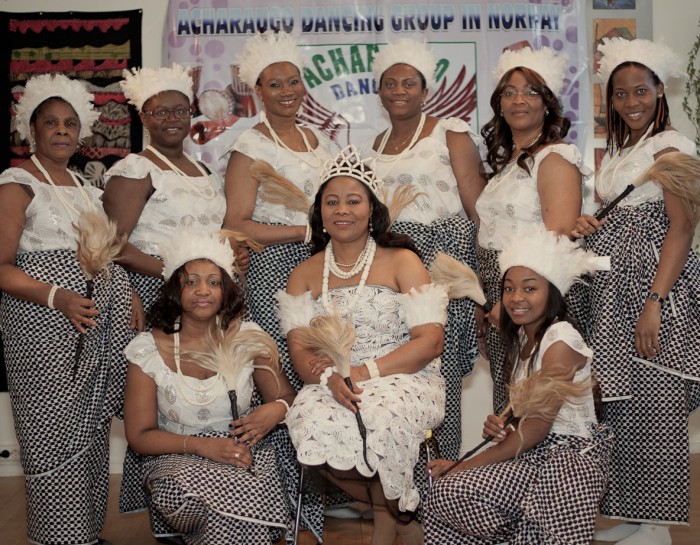 HISTORICAL BACKGROUND
Our musical genre is basically cultural/folklore. The music can be danced by both males and females, but "Acharaugo Dancing Group" (ADGIN) is made up of some of the Nigerian women living in Norway and membership is open to women of 18 years old and above.
ADGIN officially became registered in Norway in 2012, but prior to its registration, the founder and leader (performing artiste), Juliet Okparaebo began her musical career since 2002.
The formation of ADGIN was in response to the vigorous campaign by various bodies—governmental and organizations for integration. For us our cultural dancing was one of the fastest means of integrating with the Norwegian society through social and cultural interaction with other various organizations (Norwegians and foreigners). In addition to integration intent, ADGIN has the vision of to achieve the following:
To use its dancing group to entertain and to make the public happy at special events.
To leave a legacy for our off-spring through the promotion of our cultural heritage, hence we often bring along our children during practices.
To promote a healthy life-style through physical activity (dancing) as many of us do not regularly train at physical training studios.
ACTIVITIES
We meet on regular basis for dancing practices and discussion of how best to meet our set goals. At intervals and when the need arises we as a group visit our members. ADGIN on certain conditions accepts invitation from the public to do what we do best—folklore music and dancing. Since 2002, the performing artiste/leader of ADGIN, has been show-casing her musical talent in a number of public events. In 2004 and 2005 for instance, she performed for Oslo "Kommune" (LGA) during some of its annual "Bjerke Mela" at Årvål Samfunnshus and at Slurpen (Mangfold og Integrering) activities, to mention, but a few. And in January, 2013 she successfully produced her first album "Uru Nne Bara" (mother`s role).
AIM AND OBJECTIVES
Our aims and objectives shall be the following:
To bring women with cultural interest together

To show case the ability and creativity of women

To promote physical activities among women

To increase understanding among women

To create free atmosphere through social interaction during presentation of our dance in a social gathering
To raise up and encourage women with musical talent

To promote cultural attire and outfit
REGISTRATION AND DUES



The registration fee shall be kr 100 while the annual dues shall be kr 240.
Registration fee is paid once and dues is non- refundable.
PRACTICE AND MEETING PLACE



(a) Practice shall be once in every month but may increase if there is any
need for more.
(b) Meeting place shall be convenient for dancing
FUNCTIONARIES
(i) Dancing leader
(ii) Composer
(iii) Presenter/ Singer
(iv) The Dancers
(v) The Instrumentals
(vi) Financial secretary
(vii) Social secretary
ORGANIZATION NUMBER 998333849